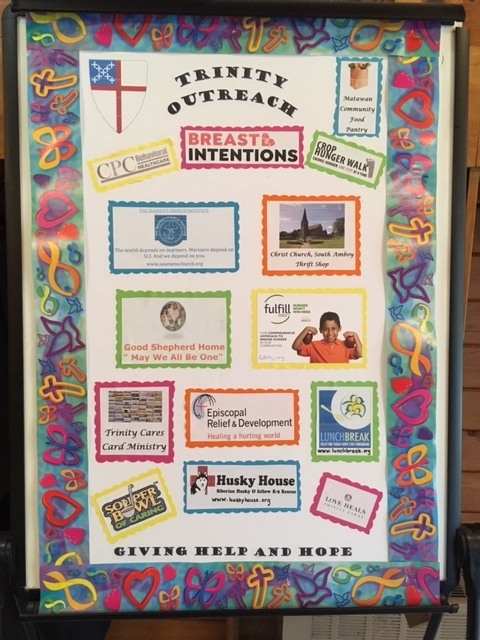 Jesus urged us to go help our fellow people. Trinity takes this commission by our Lord to heart by being involved in many different activities in the community and the world. Below is a listing of just some of our Outreach activities, though we invite you to visit this page often, as we are always growing and evolving our Outreach efforts.
Like to get involved? Please feel free to contact the parishioner listed as a contact for each of the activites, or please contact our Outreach Coordinator, Deacon Magdalena Aders, for information on how you can get involved in serving God by helping others.

Macaroni Mondays
St. Mark's Food Ministry is always in need of our support. One way to help with this is Macaroni Mondays. Parish volunteers deliver the food. They also help prepare the macaroni, and salad, then serve it and clean up afterwards. If you are interested in helping, please see Jolynn Kawoczka or email or phone the church office at 732-591-9210. Please consider contributing to this wonderful community outreach.
---
Oasis LGBTQ Ministries
Oasis is an organization dedicated to advancing the inclusion of all people in the Episcopal Church. Their commitment is to welcome LBGTQ people to the life of Episcopal church communities. Members are available to host movie screenings, facilitate discussions, offer workshops, and other opportunities to assist you in your inclusive ministry. To find out more about Oasis' mission and resources, please visit them at www.oasisdnj.org.
---
Food Donations for St. Mark's Food Kitchen
In addition to Macaroni Mondays, St. Mark's is always looking for donations of non-perishable food for their food pantry. This food is used to help the less fortunate in the community to have healthy and nutritious meals throughout the year. Donations are accepted in the large basket in the Narthax of Trininty. Please also remember food not only for the humans, but for the animal companions they have. Have questions, please contact Trinity's Church Office. They will be happy to answer your questions or point you in the right direction.
---
Seaman's Church Institute: North America's largest mariners' service agency. "The world depends on mariners — mariners depend on SCI and we depend on you." Speak to Jolynn Kawoczka or Lisa Alston. More information here.
---
United Thank Offering: A ministry of the Episcopal Church for the mission of the whole church. Individuals are invited to embrace and deepen a personal daily spiritual discipline of gratitude. Notice the good things that happen each day, give thanks to God for those blessings and make an offering for this blessings in a UTO Blue Box. More information here.
---
Thistle Farms: Founded in 1997 by Becca Stevens, its mission is to heal empower and employ women survivors of trafficking, prostitution and addiction by providing them with safe and supportive housing, opportunities for economic independence, and a strong community of advocates and partners. More information here.
---
Episcopal Relief Fund is always helping those in need. Click here for details.
---
The Children of the Good Shepherd Home Need Your Help
The Good Shepherd Home is run by the Benedictine Sisters of Bethany, a religious order of the Anglican Church of Cameroon, West Africa, under the supervision of its founder and present superior, Sister Jane Mankaa. The home feeds, clothes, houses, educates and loves over 130 orphaned children and is recognized by the Cameroonian government as one of the finest in the country. An annex has recently opened in the village of Batibo for orphans and special needs children-many who are afflicted by epilepsy.
The Community of St. John the Baptist in Mendham, NJ, with its strong connections to the Episcopal Dioceses of New Jersey and Newark, is deeply involved in the orphanage, overseeing its funding and making yearly visits to Good Shepherd to assess its needs.
Parishioner Lisa Alston would like to invite Trinity families to sponsor a child at the Good Shepherd Home. By several parish families joining in on the cost for sponsorship, a small amount of money can do a great amount of good for thse orphans, many of whom have lost their parents to AIDS and are facing ostracism by the community based on fear and superstition about AIDS.
Please contact Lisa for information on sponsorship, or look at the mateirals in the Narthex.