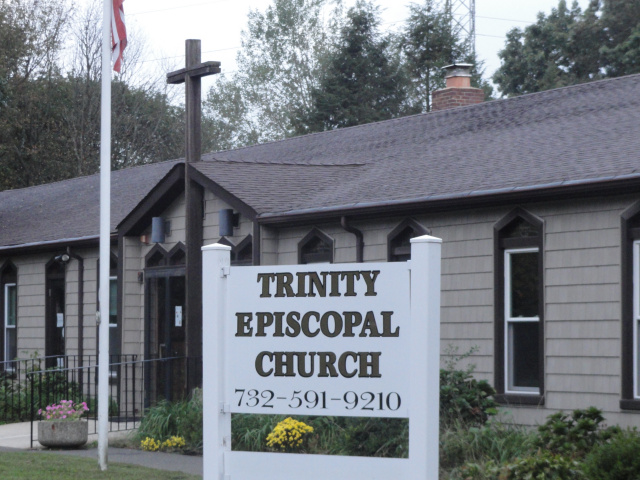 Sunday Service Schedule
8 AM -- Holy Eucharist (Said)
10 AM -- Holy Eucharist (Sung)
Rector: The Rev. Maria B. Sanzo
Visit us any Sunday. We're easy to find!
Can't visit us in person? Visit us on Facebook
4 Dec 2013
Advent I


The last of the leaves have finally surrendered and given up their grasp to be blown away by the Autumn wind. This starkness has given way to the new view out my back window, allowing me to see the lights of my neighbors' homes, a reminder that we live in community, never alone in the bleakness of the fast approaching winter. The squirrel's nest is in view now, a home in another form, a place of safety and comfort to the animal who must seek out shelter from the harsh winter season, a seemingly effortless desire for survival. The buds are visible on the maple tree reminding us that just below the surface is new life. That is the reality of Advent, in the midst of the darkest part of the year, there is always a promise of new life.

Maria+
---
We hope you'll join us in church on Sunday. Holy Communion is open to all who wish to receive -- all are welcome at Christ's feast. Join us for light refreshments and conversation after the service. For more information, click here for our Visitor's Guide
---
Announcements
Make sure you check out our Calendar of Events page for
everything taking place at Trinity!
Come Get Your Cookies!
The annual Trinity Church Cookie Walk is Saturday, December 7 from 9 am to 2 pm. Come pay for the box and fill it with cookies! We'll have our famous White Elephant Sale, the Trinity Cafe, and fantastic vendors! Come join us for a great day of fun, fellowship, and lots and lots of cookies!
Greening of the Church. Come join us as we get our worship space ready for the coming of the Lord. We'll gather after the 10 am service on December 15th.
Come Welcome the Lord in Song! Our Christmas Concert will be held on Sunday, December 22nd at 4 pm. Join the choir in some warmly familiar songs as we get ready to celebrate our Lord's birth.
Heard about Heavenly Ham Wednesdays? Trinity has volunteered to spend an additional day per month assist St. Mark's in Keansburg, NJ. Contact the office for the schedule. Can't make a Wednesday? We'll need donated canned hams to donate to St. Mark's.
The New Schedule for All Those Who Serve is now on the Trinity Ministries page.
Materials for Lay Readers are now available on the Trinity Ministries page.
---
Barbara England, Warden
Michael Gow, Warden
Ellen Pedersen, Church Secretary