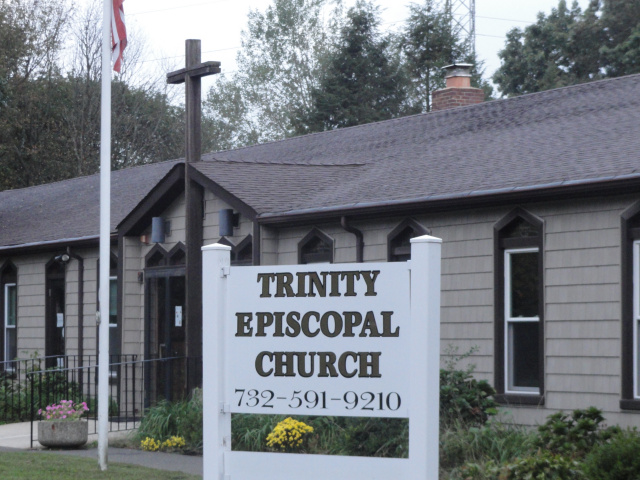 The Rev. Maria B. Sanzo - Rector
Sunday Service Schedule
8 AM -- Holy Eucharist (Said)
10 AM -- Holy Eucharist (Sung)
Trinity's Summer Schedule
July
July 5
One Service at 9:00 am
July 11, July 18, July 25
Saturday Mass on the Grass Outdoor Services -- 6:00 pm
July 12, July 19, July 26
8:00 Service Only
August
All Sundays
One service Only at 9:00 AM
We hope you'll join us in church on Sunday. Holy Communion is open to all who wish to receive -- all are welcome at Christ's feast. Join us for light refreshments and conversation after the service. For more information, click here for our Visitor's Guide
---
Alleluia! The Rt. Rev. Michael Curry has been elected our next Presiding Bishop. He is the first African American elected to this office. He is an outstanding leader and pastor in our church.

click here for a short meeting with Bishop Curry: https://www.youtube.com/watch?v=KQaMk8e_I0g

---

Our prayers go out to the people of Emanual AME Church, the families of those who have lost their lives, to the poor soul who did this horrible act of hatred, and to the city of Charleston. May we strive to end gun violence, the sin of racism, and work each day to live into the gospel of Jesus Christ.

May the souls of the faithful departed rest in peace.

---

Announcements

Make sure you check out our Calendar of Events page for
everything taking place at Trinity!

Hey Parents! Want an easy to use and access tool to help build on the faith lessons taught at Trinity? Head over to http://standrewsfish.weebly.com/worship.html .http://thebeginnersbible.com/kids.php

How About Some Baseball? The Lakewood Blueclaws are sponsoring a Faith and Family Night on Tuesday, July 7 at 7:00 pm. Contact Judy Kamaszka at wusabee@gmail.com for tickets, or sign up using the sheet in the Narthax.

Macaroni Mondays - Replacing our Meatloaf Mondays is Macaroni Mondays. Call the office to find out how you can help out St. Mark's in Keansburg in their ministry of feeding the hungry.

Heard about Holy Ham Wednesdays? Trinity has volunteered to spend an additional day per month assist St. Mark's in Keansburg, NJ. Contact the office for the schedule. Can't make a Wednesday? We'll need donated canned hams to donate to St. Mark's.

The Schedule for All Those Who Serve is now on the Trinity Ministries page.

Materials for Lay Readers are now available on the Trinity Ministries page.
---
Michael Gow, Warden
Rosemary Atterbury, Warden
Ellen Pedersen, Parish Administrator

Trinity Episcopal Church, 18 Ryers Lane, Matawan, NJ 07747 / 732-591-9210