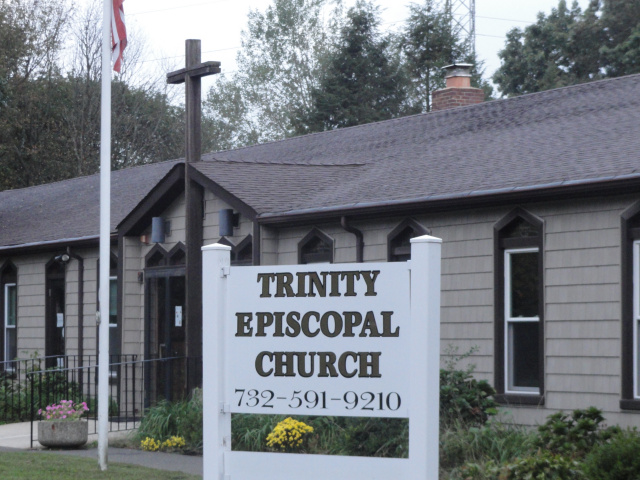 Sunday Service Schedule
8 AM -- Holy Eucharist (Said)
10 AM -- Holy Eucharist (Sung)
The Rev. Maria B. Sanzo - Rector
Visit us any Sunday. We're easy to find!
Can't visit us in person? Visit us on Facebook
---
This week, as Jesus speaks to us about conflict resolution, may we take time to remember the people of 9/11 whose lives were lost and those which were changed forever.

Six moments of silence: 8:46 AM Plane number 1 hits the WTC, 9:03Plane number 2 hits the WTC,9:37 Plane number 3 hits the Pentegon, 9:59 The south tower collapse, 10:02 Plane number 4 crashes in Shanksville PA. 10:29 The north tower collapse.

A Prayer for the Commemoration of 9/11

God the compassionate one, whose loving care extends to all the world, we remember this day your children of many nations and many faiths whose lives were cut short by the fierce flames of anger and hatred. Console those who continue to suffer and grieve, and give them comfort and hope as they look to the future. Out of what we have endured, give us the grace to examine our relationships with those who perceive us as the enemy, and show our leaders the way to use our power to serve the good of all for the healing of the nations. This we ask through Jesus Christ our Lord who, in reconciling love, was lifted up from the earth that he might draw all things to himself. Amen.

May God be with us and help us to learn to live in community. Maria+

We hope you'll join us in church on Sunday. Holy Communion is open to all who wish to receive -- all are welcome at Christ's feast. Join us for light refreshments and conversation after the service. For more information, click here for our Visitor's Guide

---

Announcements

Make sure you check out our Calendar of Events page for
everything taking place at Trinity!

Hey Parents! Want an easy to use and access tool to help build on the faith lessons taught at Trinity? Head over to Vibrantfaith.org. Go to the Vibrant Faith @Home link and find activities for any age and any family size!

Heard about Heavenly Ham Wednesdays? Trinity has volunteered to spend an additional day per month assist St. Mark's in Keansburg, NJ. Contact the office for the schedule. Can't make a Wednesday? We'll need donated canned hams to donate to St. Mark's.

The New Schedule for All Those Who Serve is now on the Trinity Ministries page.

Materials for Lay Readers are now available on the Trinity Ministries page.
---
Michael Gow, Warden
Rosemary Atterbury, Warden
Ellen Pedersen, Parish Administrator

Trinity Episcopal Church, 18 Ryers Lane, Matawan, NJ 07747 / 732-591-9210