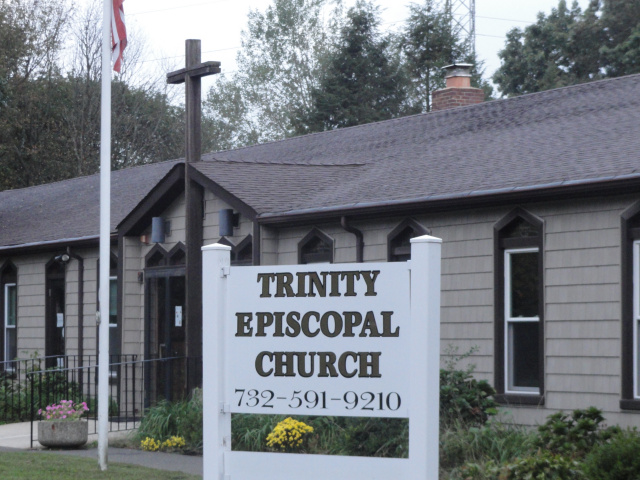 The Rev. Maria B. Sanzo - Rector
Sunday Service Schedule
8 AM -- Holy Eucharist (Said)
10 AM -- Holy Eucharist (Sung)
---
Christ is risen, he is risen indeed! How wonderful that we stand in this space of renewal. We love a God a second chances, and Easter is our time to celebrate the beginning of the story....Alleluia!

We hope you'll join us in church on Sunday. Holy Communion is open to all who wish to receive -- all are welcome at Christ's feast. Join us for light refreshments and conversation after the service. For more information, click here for our Visitor's Guide

---

Announcements

Make sure you check out our Calendar of Events page for
everything taking place at Trinity!

Hey Parents! Want an easy to use and access tool to help build on the faith lessons taught at Trinity? Head over to http://standrewsfish.weebly.com/worship.html .

Goods and Services Auction - Saturday, May 9th. Please sign up on the sheets in the Narthax if you can contribute all or part to one of the items we will be autctioning off. Please also help distribute flyers to friends and neighbors so we can have a successful event! Every little bit helps!

Heard about Heavenly Ham Wednesdays? Trinity has volunteered to spend an additional day per month assist St. Mark's in Keansburg, NJ. Contact the office for the schedule. Can't make a Wednesday? We'll need donated canned hams to donate to St. Mark's.

The Schedule for All Those Who Serve is now on the Trinity Ministries page.

Materials for Lay Readers are now available on the Trinity Ministries page.
---
Michael Gow, Warden
Rosemary Atterbury, Warden
Ellen Pedersen, Parish Administrator

Trinity Episcopal Church, 18 Ryers Lane, Matawan, NJ 07747 / 732-591-9210