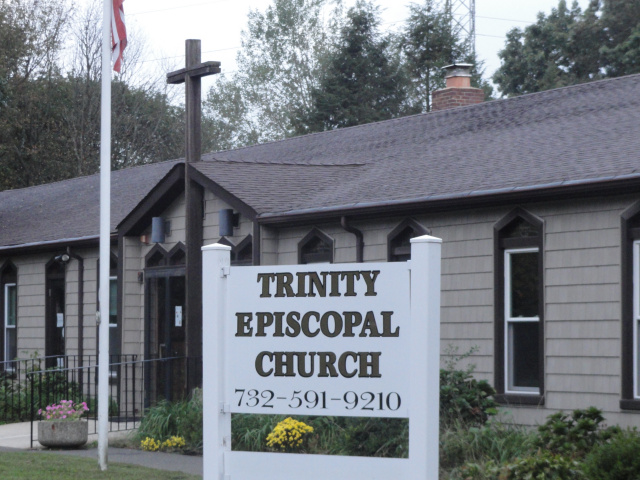 Sunday Service Schedule
8 AM -- Holy Eucharist (Said)
10 AM -- Holy Eucharist (Sung)
Rector: The Rev. Maria B. Sanzo
Visit us any Sunday. We're easy to find!
Can't visit us in person? Visit us on Facebook
---
We hope you'll join us in church on Sunday. Holy Communion is open to all who wish to receive -- all are welcome at Christ's feast. Join us for light refreshments and conversation after the service. For more information, click here for our Visitor's Guide
---
We have received an urgent call for help by St. Mark's in Keansburg. While their food kitchen shelves are full, they need some helping hands to assist in feeding people impacted by Sandy on a daily basis. If you can help, please consider helping out St. Mark's kitchen any day between 11 am and 3 pm. No advanced notice is necessary, just wiling hands. Thank you.
---
Nominations for the Twelfth Bishop of New Jersey have been announced. Click this link to review information on each of the candidates.
---
Announcements
Make sure you check out our Calendar of Events page for
everything taking place at Trinity!
Our Gifts and Services Auction will take place on Saturday, May 18th. Preview is from 6 pm to 7 pm and bidding is from 7 pm to 9 pm. Invite your friends and family! We can use all the support we can get!
Want to see the slides from the Town Hall held in April? You can find them on our Facebook page!
The New Schedule for All Those Who Serve is now on the Trinity Ministries page.
Materials for Lay Readers are now avaialble on the Trinity Ministries page.
View the video that was presented at the Annual Meeting! Click this link for a three minute review of our year at Trinity!
---
Barbara England, Warden
Michael Gow, Warden
Ellen Pedersen, Church Secretary