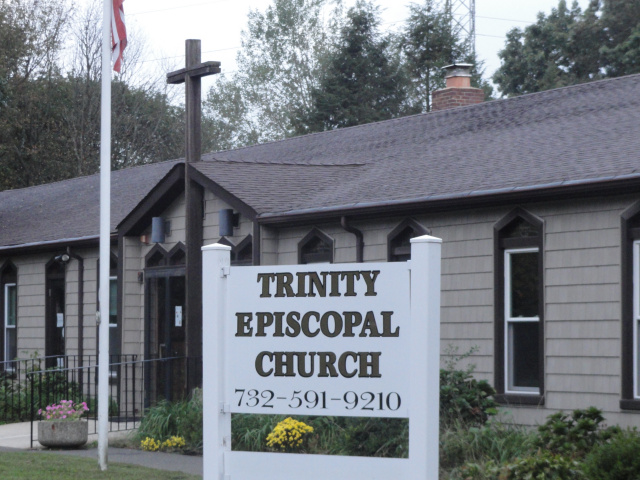 Sunday Service Schedule
8 AM -- Holy Eucharist (Said)
10 AM -- Holy Eucharist (Sung)
The Rev. Maria B. Sanzo - Rector
Visit us any Sunday. We're easy to find!
Can't visit us in person? Visit us on Facebook
---
The season of Advent invites us to stand in two places at one time, we stand in the "already-not yet" when we know that Jesus is with us, and yet we wait for Jesus to come to be among us. This season is a wonderful time to search out the places in our lives that are empty, the places where Jesus will come to fill us up.

Where are the empty spaces in your life that need Jesus? What loss, what lonliness, what void is present in your life, and yes, what are the times that our sin has caused a void between us and God?

In this season of Advent, may you spend time in quiet prayer, seeing the empty spaces and inviting Jesus to come once again to fill your life with his presence.

Maria+

We hope you'll join us in church on Sunday. Holy Communion is open to all who wish to receive -- all are welcome at Christ's feast. Join us for light refreshments and conversation after the service. For more information, click here for our Visitor's Guide

---

Announcements

Make sure you check out our Calendar of Events page for
everything taking place at Trinity!

Hey Parents! Want an easy to use and access tool to help build on the faith lessons taught at Trinity? Head over to Vibrantfaith.org. Go to the Vibrant Faith @Home link and find activities for any age and any family size!

Wreaths! Wreaths can be picked up tomorrow at church after services.

Having a Blue Christmas? The holiday season is often a time when we feel a strong sense of loss for our loved ones who have died. In a season when happiness abounds, we must allow ourselves time to grieve, whether our loss is recent or over many years. We will gather on Wednesday, December 10 at 7:00pm for a Blue Christmas Eucharist and be together for prayer and support.

Heard about Heavenly Ham Wednesdays? Trinity has volunteered to spend an additional day per month assist St. Mark's in Keansburg, NJ. Contact the office for the schedule. Can't make a Wednesday? We'll need donated canned hams to donate to St. Mark's.

The Schedule for All Those Who Serve is now on the Trinity Ministries page.

Materials for Lay Readers are now available on the Trinity Ministries page.
---
Michael Gow, Warden
Rosemary Atterbury, Warden
Ellen Pedersen, Parish Administrator

Trinity Episcopal Church, 18 Ryers Lane, Matawan, NJ 07747 / 732-591-9210